Contact Us
Thistle House 91 Haymarket Terrace Edinburgh EH12 5HE
Get in touch
Send us a message using the form below and one of the team will get back to you.
Other ways of getting in touch
British Sign Language (BSL) users can contact us by using Contact Scotland BSL.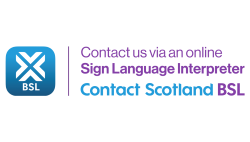 This video tells you more about the service.
This service is also available to people who are deafblind and use BSL. We can also provide advice and information in other languages and formats (such as large print or Braille).
Please tell us what you need.