Code of Practice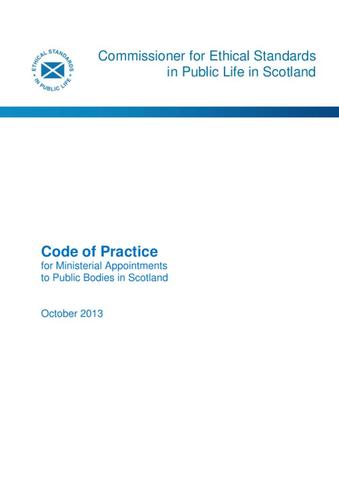 PLEASE NOTE THAT THIS CODE HAS BEEN SUPERCEEDED BY THE CODE OF PRACTICE FOR MINISTERIAL APPOINTMENTS TO PUBLIC BODIES IN SCOTLAND MARCH 2022
The Commissioner published a revised Code of Practice in terms of section 2 (3) of the Public Appointments and Public Bodies etc. (Scotland) Act 2003. The revised Code came into force on 1 October 2013.
It is accompanied by guidance which may also be downloaded from our website.
The Commissioner is currently consulting on prospective revisions to the Code with a view to improving on appointment practices and, in particular, increasing board diversity. More information on the consultation and the responses received are available on the relevant consultation page.